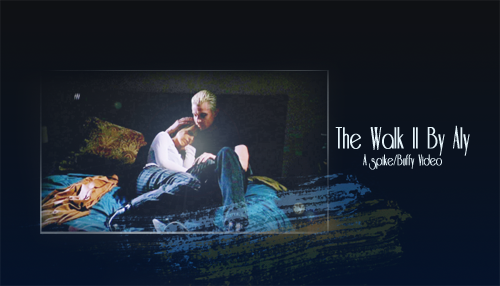 Lovely graphic by the equally lovely
sunspawn
. ♥
The image links to the youtube video, or click
here
.
Notes: This is my first Spike/Buffy video. I literally just finished the show, and was compelled to make this. They're just such a gorgeous pairing. This is also one of my favorite videos I've ever made, if not the favorite. It's between this and
Breathe
, but I just really enjoyed making this one. I'm not even tired of the song, which I usually am after making a video.
I'd always planned to make a Mulder/Scully video to this song, hell I'd even had a bit of one plotted and laid out in Ulead, but I couldn't deny that it just felt more right for this pairing.
I wanted this video to encompass more than just MY GOD SPIKE AND BUFFY ARE SEXXEH. So I included things that were going on with them, and why they came together the way they did. Buffy's grief over her mother, her lack of feeling after her death. Spike's gaining of his soul, and his conflict from when he almost raped her.
My favorite shot is probably the overlay of Spike getting his soul and going crazy in the basement.
I figured out a lot of really cool technical things in Ulead while I worked on this one, so I hope you enjoy them. ♥
Questions? Comments? I love them both. :) Also, if anyone would like a download (though I think everyone and their mother can download from youtube now,) let me know and I can put one up.
Current Mood: accomplished